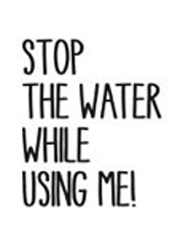 Stop the Water While Using Me! Ist eine Naturkosmetik-Brand mit Sitz an der Hamburger Waterkant. Die plakativen Schriftzüge auf den cleanen Designs der Fläschchen und Tiegelchen machen auf das Thema Wasserverschwendung aufmerksam und regen so zum bewussten Verbrauch an. Gerade im Badezimmer, wo das meiste Wasser verbraucht wird, erinnert uns Stop the Water beim Zähneputzen und Händewaschen charmant daran, den Hahn abzudrehen. Mit jedem Kauf wird zudem die eigens ins Leben gerufene Initiative GOOD WATER PROJECTS unterstützt, die wasserarme Regionen mit sauberem Trinkwasser versorgt.

Das Unternehmen verfolgt eine nachhaltige und hautfreundliche Politik, daher werden die Pflegeprodukte aus hochwertigsten und zertifiziert natürlichen Essenzen und Ölen hergestellt. Alle Produkte sind frei von schädlichen Inhaltsstoffen, das heißt sie enthalten keine Parabene, Silikone oder künstliche Zusätze. So wird die Haut gepflegt ohne dabei die natürliche Hautschutzbarriere zu irritieren.

Mach Dein Badezimmer ein bisschen grüner und shoppe hier Stop the Water-Produkte wie Hand- und Körperseifen, praktische Travelkits und Lippenpflege.