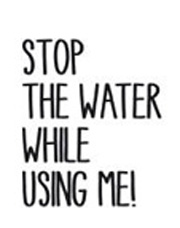 Stop The Water While Using Me
Das Hamburger Naturkosmetiklabel "Stop the Water while Using me!" sensibilisiert für das Thema Wassersparen. Wasser gehört nicht nur zu den endlichen Ressourcen, sondern ist wohl unser wertvollstes Gut. Daher möchte die Brand mit seinen auffällig designten Seifen und Lotionen immer dort zum Wassersparen animieren, wo es am meisten verbraucht wird – Im Badezimmer. Mit jedem Kauf wird außerdem die Initiative GOOD WATER PROJECTS unterstützt, die sauberes Trinkwasser in wasserarmen Regionen bereitstellt.

Ganz im Sinne von Nachhaltigkeit und Hautverträglichkeit werden die Pflegeprodukte aus hochwertigsten und zertifiziert natürlichen Essenzen und Ölen hergestellt. Alle Produkte kommen ohne Parabene, Silikone oder künstliche Zusätze aus und sind noch dazu unisex. In unserem Onlineshop kannst Du Dir Hand- und Körperseifen, praktische Travelkits und Lippenpflege von "Stop the Water" ganz einfach nachhause schicken lassen.